Guard and Protection
Publication Data :
Last updated:2019-03-15
Count Views:403
Monitors are installed everywhere inside and outside the Institute. For security's sake, emergency alarm is installed in each workshop and cell and is connected to the Central Station for controller backup to form a rigid guarding network when there is emergency.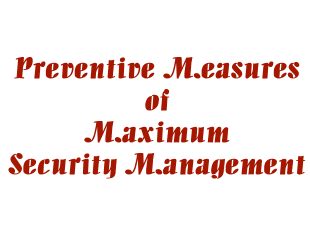 The Custody management makes use of maximum-security management model to strictly enforce various duties and duly conduct the custody assessment. Officers and Sergeants patrol each duty area in turn in day time while Executive officers and officers of the duty inspect the custody day and night to make custody duties even better.
To prevent contraband smuggled into the custody area, routine and random security inspection is made no less than one time each month. Body search and object inspection are executed at major entrances and exits of the custody area.
Lectures on related rules and regulation are given on a regular base to improve the occupational knowledge of the management personnel.
These lectures are instructed by Director, Secretary, Chiefs of each Office, or staff who is expertise on the topic.
To ensure the safety of the Institute, personnel and property and make the staff familiar with the responsive measures to disasters, drills of fire, riot and escape prevention are held annually to help the staff more alert so that events can be handled effectively and promptly.